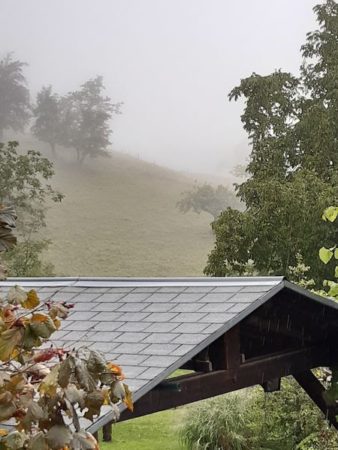 It's raining. A nice gentle rain. The soils were dry, the meadows looked like doormats, the cows had nothing to graze… The rain didn't stop me from going for a walk. I went above our place because, below, near the Lake, it meant taking the car and soaking the seats on the way back – it's not that fussy but the humidity in a car is bad, for several days the windows are full of steam… That night Noé, the younger dog of RouXy's Master, barked a lot. Around 4 o'clock I got up and saw that in front of the house the automatic lighting was on and… I saw the grey and white cat who often comes to eat and drink milk, the one who does not let himself be approached.
I have walked or jogged more than 1,500 km [930 M] since January 1st. I have made some progress since during the last ten days I have «made» about ten kilometers several times – like the 11.5km [7M] of the course below – with no more difficulty than the 3.5 M of the beginning of the year. But I won't mention "pain". If you think about it, you stay in your armchair.
Reminder: for the «sport», click here !