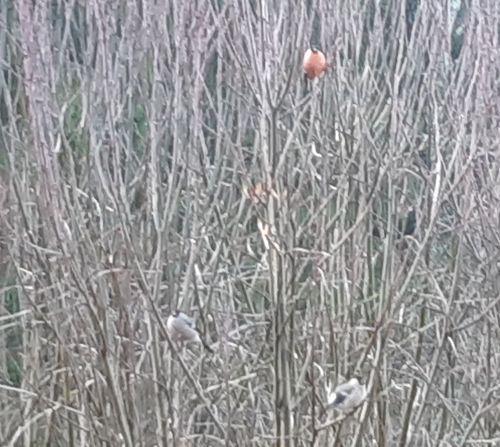 Since in the garden of Frimousse there are no more cats, I give seeds to the birds. Many tits, finches, rarely sparrows, from time to time serins, and, every day, the great spotted woodpecker and the Bullfinch family – this morning, for the first time, there are two Mrs Bullfinch!
There are no more cats? There's Moka, the black pussy ! She hides under the balcony and runs away when she hears me going out. She caught a tit before Christmas, but nothing since, it seems. Unless it happened while I was doing my tour – walking or jogging – above our house or by the Lake.
I have walked or jogged 216 km (135M) since January 1 – I make a note of it everyday, not to boast but to encourage myself. I'm amazed my knees don't get any worse, when they should! Really a huge regret: having had a prosthesis (PUC) fitted on my right knee, prosthesis that wears.
Some of you know that I've created a Running blog to talk about racing. I can't run therefore I talk! Last Friday evening the Mistress of Frimousse, her nephew and two of her friends took part in the Glières relay. Cross-country skiing (skating) running (trail) at night (departure 7pm) and in the snow. By teams of two. 62 teams. I am talking about it here.