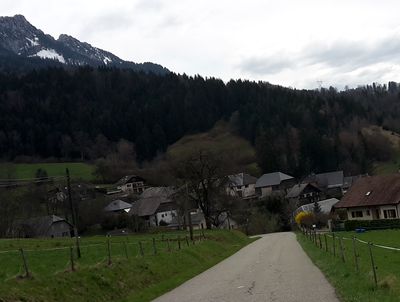 Little Frimousse arrived at our house one day of October of the year 2000. He came from we don't know where, but he entered our lives. Both of us worked and little Frimousse was often alone and sad. In July of the following year we moved to live here and Frimousse found little RouXy, a kitten no more than two months old. And they spent their whole lives in this hamlet of a small village of Haute-Savoie. They went elsewhere only very rarely, to Annecy to Frimousse's doctor's surgery mainly. If Frimousse accompanied us twice in Lorraine, once near the Riviera and once near Spain, both spent one week's holiday with us in Bessans, in the mountains, in October, 2002. Very often Jump, the collie, spent a few days with us, and they were very happy.
If Frimousse, with his PetSafe system, could not leave the house nor the garden, RouXy would tour the village every day, and every evening we had the anxiety not to see him returning. At the age of one year he had a leg caught in a jaw trap in a barn less than a hundred meters from our house. He almost died.
We found Tigri in a ravine 700 meters from the house in October, 2002. How had he arrived there? We have never known that of course. But Tigri lived his nine-year life with us, here. He never left except for medical attention in Annecy during his last two years of his life.
Yellow flowers bloom in the garden at the moment, for Frimousse, RouXy, Tigri and Jump. When we see the little village, when we think of these three kitties and this good dog, we think of the huge place they take in our memories.