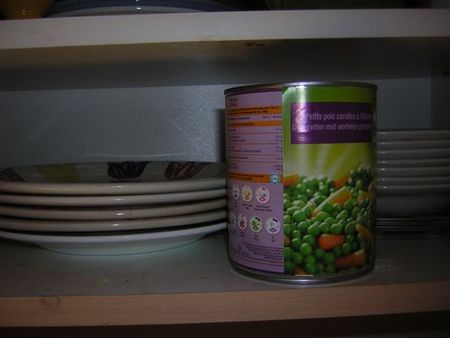 In addition to Frimousse Blog and RouXy Blog, in French and in English, I have another blog about food. Mainly in French, I'm afraid, but the latest posts have been published in both languages.
In the very first article of the blog, in September 2009, I wrote:
"France, the country of good food? Really? Ask French teenagers what their favorite dishes are. Pizzas, couscous, hamburgers, kebabs, steak-and-French fries, sandwiches, are their most likely answers. Of course there are restaurants held by George Blanc, Paul Bocuse and other famous chefs. But how many of us have had, or will have, a chance to have lunch or dinner there?
There are family dinners, occasions for Auntie, Grandma or Mom "to put on a great spread". There are also these meals with friends, a chance for husbands to show their talents – and leave pans, whips, strainers, pressure-cookers and dirty dishes in the kitchen sink and on worktops… It is always possible to cook a good meal for the family and for friends… once a week or from time to time. But every day! There lies the real problem. Because everybody does not have the means to hire a permanent cook! There is also the necessity to stick to a budget and to serve balanced meals. And, the most difficult probably, to serve a variety of dishes, not to hear the comment most feared by those who prepare meals: "What! Again!"  My peas-and-carrots tin is excellent from a dietary point of view, it is cheap and quick to serve – the peas-and-carrots can be microwaved – but I'll have to leave them in the pantry, I'm afraid. Therefore I'll try (yes, really try) to tell here my efforts to prepare meals without spending hours at it."
The blog is also the occasion of debating about food, animal welfare, environment, North-South economic relations, etc.
This Thursday morning I've posted the recipe of a dessert, simple, cheap, and excellent.
http://bouffons.canalblog.com/
-> Bouffons means "Let's stuff it down" (!)