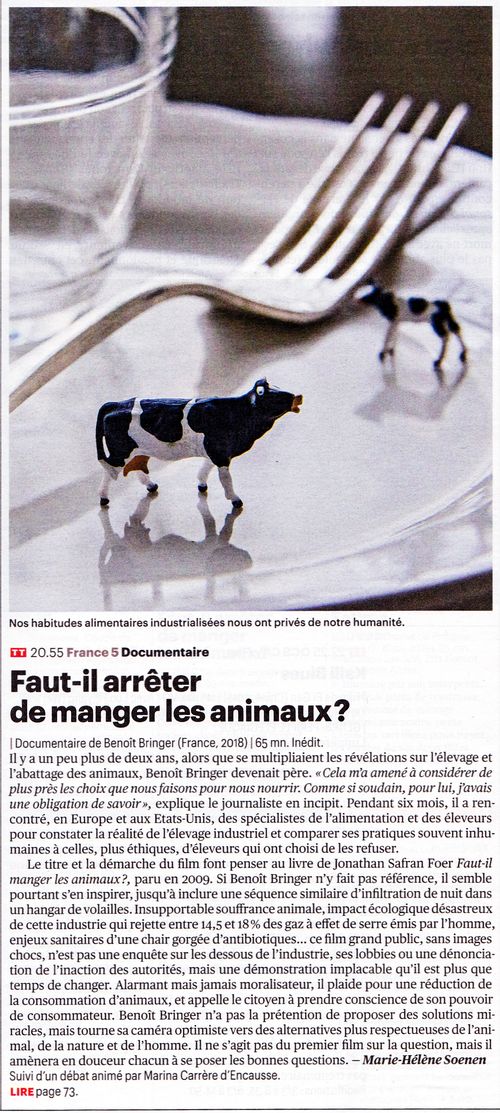 On Wednesday, February 28th 20.55 French television channel France 5 will show this programme:
Is it necessary to stop eating animals?
It will probably be shown on TV5 Monde at a later date.
A little more than two years ago, while a lot of information was given on the breeding and the slaughter of animals, Benoît Bringer became a father. "It made me to consider more closely the way we feed. As if suddenly, for him, I had an obligation of knowledge", explains the journalist in incipit. In six months, he met, in Europe and in the United States, specialists of food and breeders to examine the reality of the cattle industry and compare its often inhuman practices to those, more ethical, of breeders who chose to refuse them. The title and the approach of the documentary remind the book by Jonathan Safran Foer Eating Animals published in 2009. If Benoît Bringer does not refer to it, he nevertheless seems to be inspired by it, including a similar sequence of night infiltration in a shed of poultry. Unbearable animal suffering, disastrous ecological impact of this industry which rejects between 14,5 and 18 % of the greenhouse gases emitted by  man, the sanitary stakes in a flesh full of antibiotics…. This film for non-specialists, without shocking images, is not an investigation on the dark sides of the meat industry, its lobbies or a denunciation of the inactivity of the authorities, but a merciless demonstration that it is high time to change. Alarming but never moralizing, it pleads for a reduction of the consumption of animals, and calls citizens to become aware of their power as consumers. Benoît Bringer does not say is able to propose miracle solutions, but turns his optimistic camera to alternatives more respectful of the animals, of nature and of man. It is not the first documentary about the question, but it will help everybody to ask the good questions.
Marie-Hélène Soenen
Followed by a debate with Marina Carrère d' Encausse.