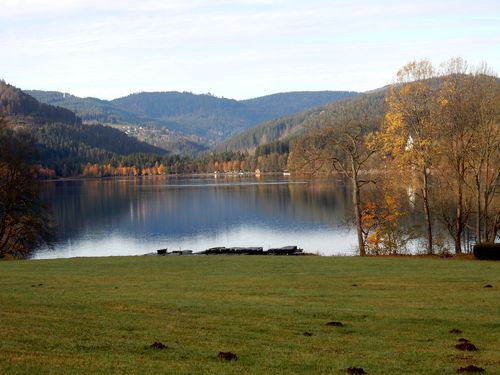 Last week we spent a few days in the Black Forest, in Germany. A very pleasant place, particularly in this season. Anne lives in the Black Forest and posts, on her blog,  photos of the Black Forest and of the different places she has visited. And photos of her cats too!
On the way back we spent a day in Colmar. While Frimousse's Mistress was shopping, I sat on a bench in the middle of a street in the pedestrian zone. A moment later a gentleman came and sat beside me. He had a magnificent cat on a lead. I immediately though of the Bengal on Gavin blog.
Nothing new here. Frimousse's lime-tree go on shedding its leaves and I go on crushing them with the mower. Two days ago there was white frost in the morning. But this morning 8°C (46°F). Tie forecast is snow at 1000 m (3,200 ft) on Sunday night. Since our house is at 800 m (2,600 ft) we might have a few flakes.
Frimousse's Mistress has started to run regularly again. She always run with her mobile, with the GPS on. Therefore I can follow her with Glympse.
(Last Saturday morning a young woman, who was running, was attacked in the Dijon area. Police has found her partly burnt body under branches in a forest.)
I can strongly recommend using Glympse if you wish to track someone. It is not spying, actually, since the person you wish to track must send a glympse from her/his mobile, thus accepting to be tracked. You receive a SMS with a secret code that allows you to monitor her/his journey on the browser of your mobile or your computer.
One last thing: yesterday was November 1st. And on November 1st 2016…  http://frimousseblog.fr/2016/11/no-comment/
Take good care of yourselves!