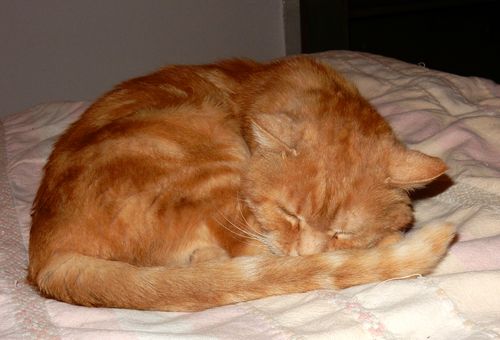 RouXy yesterday evening on the big bed upstairs
The end of the road is not far for RouXy. I took him to our vet's this morning. He was so weak. Except for the few minutes when he decided to visit the car. The 15-and-a-half-year old cat was a lively kitten again!
We are back here now and RouXy wants neither eat nor drink. He is dozing on a mat in the bath-room.
The first thing the vet said is: "He looks pale. The inside of his ears is nearly white." She checked his body temperature. It was below normal. No wonder he avoids going out in the cold and keeps in warm places. Blood test was okay except urea slightly too high. But red blood cells were much too scarce. There seems to be ascites in his abdomen. Could be leukaemia or kidney cancer…
Frimousse's Master