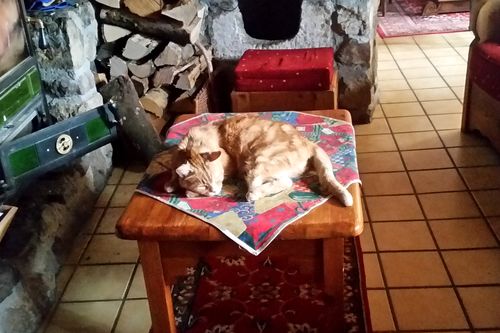 RouXy today at 9:45
Kapitola asked how RouXy had his leg cut. These are three posts translated from the beginning of Frimousse Blog, in French.
Frimousse wrote:
When we moved into the house where we have lived since then, in July 2001, our new neighbours had just been giver a very young ginger kitten. He didn't have a name yet but a lady suggested 'Rouxy'. We became friends at once. RouXy would spend hours in our house or in our garden. And in the evening my Masters would take him to his Masters' house – or his Masters would come and fetch him in ours. That has been going on ever since.
Original post with photos July 7th 2008:
http://frimousse.over-blog.com/article-21059056.html
À year later, in June, RouXy was just one year old, a tragedy occured  Another neighbour [his house is 100 yards away, by the side of the road] had set a trap in his barn [to try to catch a marten]. The trap caught RouXy left rear paw. RouXy stayed there for nearly 24 hours. When my Masters found him [it's lucky they went running in that direction!], RouXy was very weak. The vet had to cut the leg. The stump still bleeds at times. RouXy is a very beautiful cat, "but a very sweet cat particularly," his Master will add! It is hard to believe his Mater and mine could attend to his wound and moignon for three months with RouXy howling. He never scratched them or bit them. My friend RouXy climbs trees and catches mice and birds. He simply loves cakes and yoghurt.
Original post with photos July 7th 2008:
http://frimousse.over-blog.com/article-21059193.html
This is the last photo of Rouxy with his four legs. He was one year old. The next morning about 10 o'clock his left rear paw will be caught in a steel-jaw trap and will stay prisoner for 24 hours. The vet will have to cut his leg because of grangrene.
Everytime the neighbour who set the trap saws timber, my Master, who can be nasty at times, wishes the neighbour cuts his hand. But there seems to be a God for those who set steel-jaw traps…
Original post with photos September 26th  2008:
http://frimousse.over-blog.com/article-23157643.html