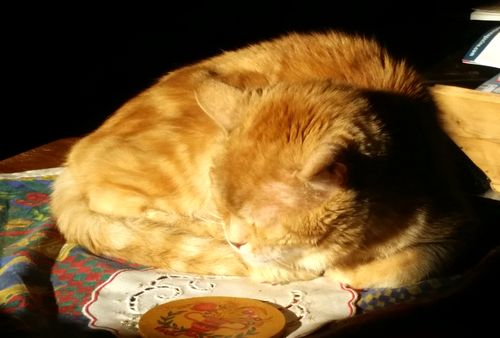 RouXy, 6th January 2017, in front of the stove
When we moved into our house, in July 2001, RouXy was a 2-month-old kitten. Every morning, when his Masters let him out when  they went to take care of their hens, he used to join me at the limit of my garden – limit marked by my PetSafe system. We would lick each other before getting into the house for breakfast. A year later Tigri joined me to welcome RouXy. The rest of the day RouXy would roam about the village. We just tried to make sure he was in his house before nightfall. A year later RouXy didn't come back in the evening. My Masters eventually found him his left paw caught in a steel-jaw trap, in a barn a hundred meters from our house. His leg had to be severed. From that day we have kept a closer eye on RouXy's activities.
And life went on more or less like that for more than 10 years.
The elder of RouXy's Masters was weaker now. And they had to stop having hens. RouXy was let out at rather irregular times. And there was no more Tigri… My Master gradually took the habit to go and fetch RouXy in the morning – and take him back to his house in the evening.
For the last three years RouXy has had a collar with a Loc8tor system, so that we can locate him in real time. But since the beginning of autumn he seems not to feel like going far, he spends most of his day in our house.
The tiny wee kitten became a splendid big cat, and now he is a gentle ageing cat, but still as sweet as ever.
And we have have been friends for over 15 years.
If you wish, you can read more about me, Frimousse, my friend RouXy, and our friend Tigri. It's here – in French, I'm afraid…