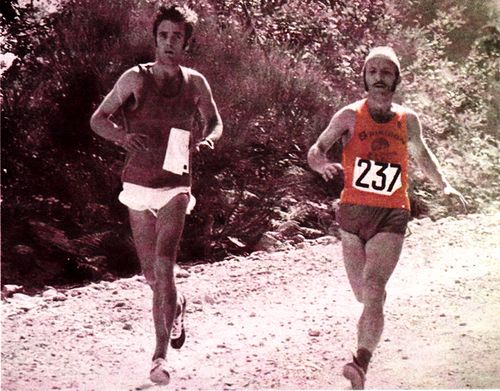 Swiss runner Noël Tamini (No 237) founded the magazine Spiridon in 1972, which contributed to the "liberation" of long-distance running.
My Mistress is out running by the Lake. She can't do any hill running yet because of her ankle injury. My Master has been unable to run for ten years now. So if he can convince others to run in his place…
Free to Run, a documentary  by Pierre Morath (1h4o).
There was a time when "running" was a non-conformists' sport. From that the director has drawn a gallery of colourful portraits and a prime documentary.
And if Jean Gabin's aphorism: " to make a good fim, one needs three things: first a good story, then a good story, and finally a good story " also applied to documentaries?
A Swiss director, very keen on sport, Pierre Morath tells us the fascinating story of long distance running and mixes with virtuosity at least three fates deserving of a Hollywood biopic : that of the pioneer Kathrine Switzer, that of Steve Prefontaine, the incandescent and rebellious athlete, and that of Fred Lebow, the legendary organizer of the of New York marathon.
Before "running" became a  mass consumption item, "running" " was a non-conformists' sport, (almost) only for males. In the 1960s, it became a fight for the women: guaranteed shiver when Joan Benoit, under the hoorays of the crowd, rushes into the stadium, in Los Angeles, at the finish of the very first feminine Olympic marathon in 1984.
The film generates such an energy and advocates so ardently social progress that we forget its formal weaknesses (testimonies facing camera, for example). Comforting purpose of the film-maker: show that even a slightly ungraceful runner can make us dream…
After Nicolas Didier Télérama
What about this ? CLICK