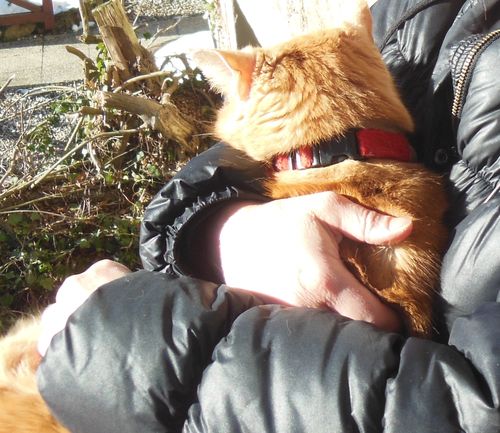 Yesterday afternoon the sun was shining bright. My Mistress (1) decided to read on the balcony. But she couldn't. My friend RouXy immediately jumped on her lap and started purring.
In the evening they were invited to dinner at friends'. But I, Frimousse, was not alone in the house! RouXy's Master is having a new boiler fitted. And all the places where RouXy stays in the evening were open and the place was very busy. So my Masters decided RouXy would stay in our house for the night. He spent the all night cuddled against my Mistress.
This morning, after a number of in-out-in-out-in-out I've decided the pink sofa upstairs was a very decent place to be for a… couple of hours. How about RouXy? He's exactly in the same position, on the sofa, at his Masters'.
(1) Mistress, Master , new visitors may be surprised that I, Frimousse, being a cat, accept having Masters! Every cat knows we are the Masters. But my Masters are so happy I pretend to believe they are.